New Music Discovery Routine.
An instructional guide featuring album recommendations.
I've mentioned in a previous newsletter some digital tools I use for music discovery.
Let's be honest, Spotify is not a necessary evil - they're legitimately shitty and artists deserve to be paid more for their hard work. That said, many artists rely on the platform for discovery and getting their music into more ears, and with some effort on the listener's part it can be useful for finding new acts and ultimately purchasing records or merch.
That's on you though, and make no mistake, nothing in this post should be a replacement for helping artists you love make a living.
Buy vinyl and merch from your favourite bands - directly, if possible. If you can only spare a few dollars, find a way to donate directly, maybe reach out to them on social media and see if that's a possibility. This is especially important right now, while artists can't tour. You've probably been made aware of Bandcamp Friday recently - take part, do something to help support the artists you enjoy.
Even at the very least, signal boost - share Bandcamp links on social media whenever you can, send friends Bandcamp links to albums you think they'd like, etc. Even small gestures like this can be a help to smaller acts.
And now, I'll share my process for music discover in hopes it'll lead to some more people supporting great music and great artists - and I'll share some recommendations along the way!
---
Spotify Recommendations
You'd be surprised how many people overlook this section, tucked away in the Browse > Discover area of Spotify. I generally start my day here. Unfortunately, it will often show me albums I've already listened to and enjoyed. But there's still often a good chunk of new-to-me albums in here. Case in point, this album by The Unfit.
---
Never-ending Spotify Discovery
So, here's my trick for "gaming" Spotify for maximum discovery - so to speak. Now that I've heard and enjoyed that album by The Unfit, I'll add one song from it to my yearly long-list playlist.
So, every time I stumble upon an album from 2020 that I'm enjoying, I do this and end up with a huge list throughout the year. I also do this by genre - I have a metal/hardcore playlist full of nothing but tracks from records that came out this year.
What making playlists like this does, is tell Spotify very specifically what you're lookig for - these are songs from the current year, or in a specific genre, or both!
Now, at the bottom of the playlist there will be recommendations you can trawl through for more new-to-you music.
Refresh, add to playlist, refresh again, rinse repeat.
---
Follow
Another important step: follow any artist you're interested in. This helps the artist since they can see how many users are following them (I believe [also important because this is a metric people care about in the industry it seems??]) but also because Spotify uses this to populate your Release Radar playlist. This is pretty much the only way Spotify will notify you of new releases these days. But you can't rely on it entirely.
---
Labels & Label Search
At the bottom of every album you'll be able to view the record label it was released on.
This is important, because the industry isn't a closed off streaming platform... this stuff doesn't appear in front of you magically. Someone put work into the recording, album art, merchandise, and releasing of this stuff. Remember when you were younger and you would look through a record's liner notes and see bands thanking one another? Probably stumbled upon some Millencolin record that way didn't you? (I did.)
Well you can still do that these days, and record label search can help.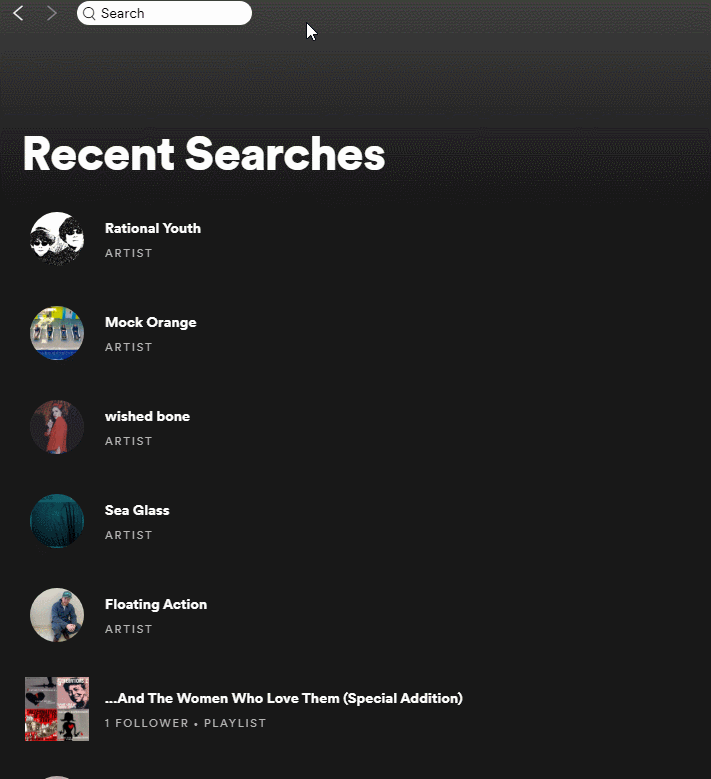 To search by label in Spotify, search for 

label:"label name here" 

and then click on ALBUMS to view albums released by this record label.
---
Don't forget: leave the platform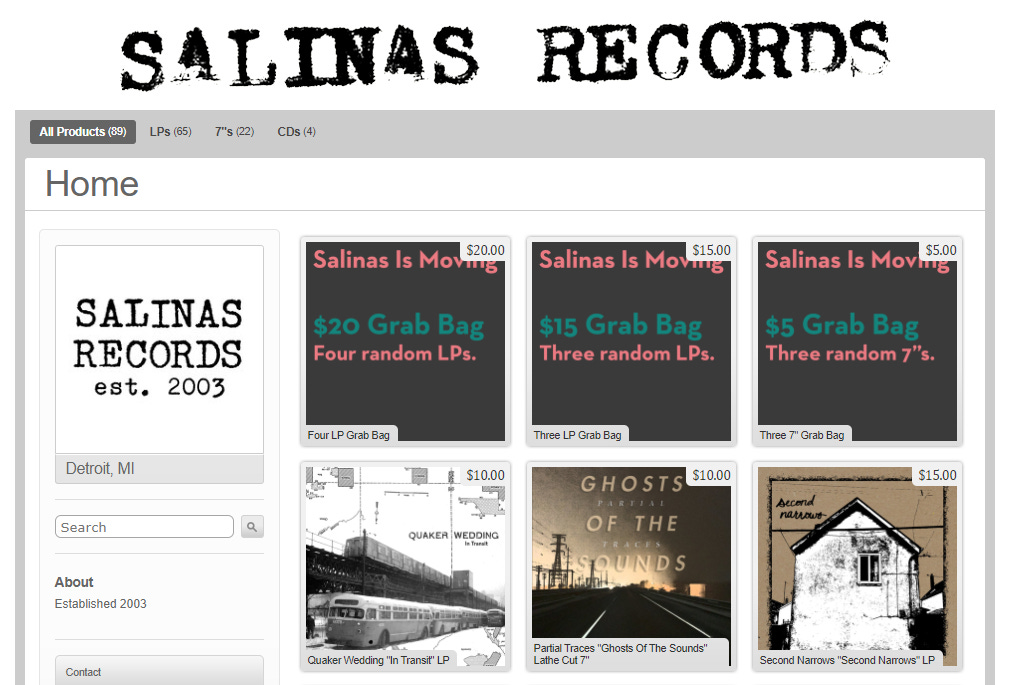 This is a perfect moment to stop and remind you of something that shouldn't be a reminder but: IF YOU LIKE THE MUSIC, GO TO THE RECORD LABEL OR BAND'S WEBSITE AND FUCKING BUY SOMETHING. Buy a shirt. Buy the record label's snapback hat. Pre-order the vinyl. BUY ANYTHING.
Support artists. Support the hardworking people at their record labels. Tweet about the record and link to their Bandcamp page. Tell everyone you know about the cool album you're listening to. Every single thing you can do to support... FUCKING. COUNTS.
And hey, look, the very great record label I was using as an example, Salinas Records is having a sale - four records for $20 bucks. Go buy some!
Oh, and wow look you left Spotify for a minute and found a cool album by Second Narrows on the Salinas site, which is only available to listen on Bandcamp.
And then, when you were on Second Narrows' Bandcamp page you saw they recommended some music by Outpatient.
Now you've got another album to listen to. It's that easy.
Make no mistake, I'm not saying this is anything new - music fans have been doing this forever, pouring over the aforementioned liner notes of record releases or through zines for other band names to check out.
But again, you'd be surprised that people overlook stuff like this right now. The platforms have changed but the tactics are similar.
---
Fans Also Like
Again, another one that you might think is standard operating procedure, but go listen to all the bands in the "Fans Also Like" section when you discovers something new that you dig.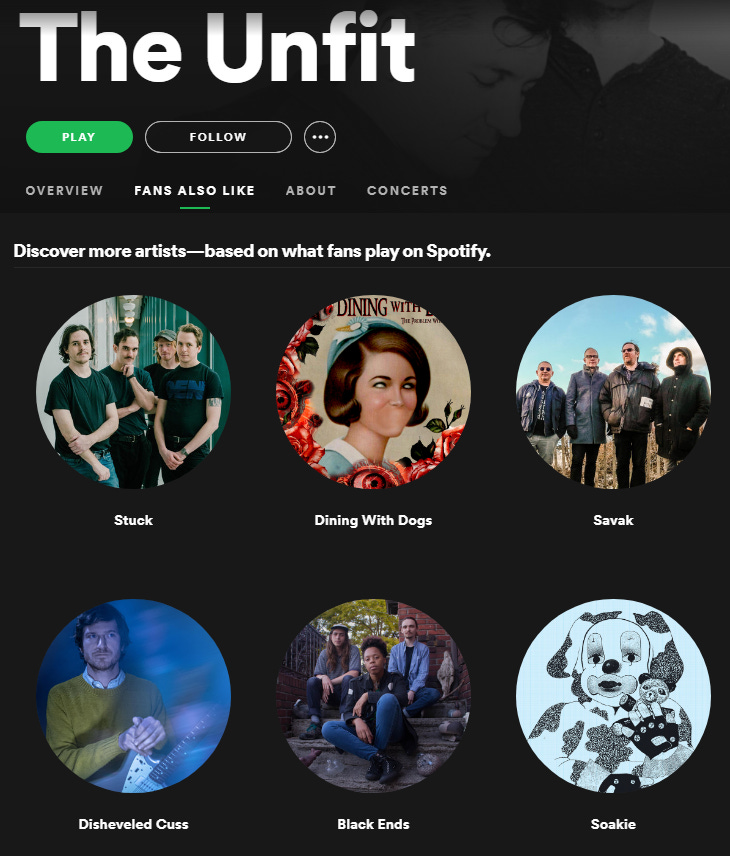 After listening to The Unfit, I clicked on Soakie in the Fans Also Like section and hey, it's an album from 2020 I hadn't heard yet that sounds dope as hell.
And then after that, I checked out this EP from Black Ends called "Stay Evil." It's great.
It's not even 8:30 AM and I've already listened to four or five great records.
---
ListenByLabel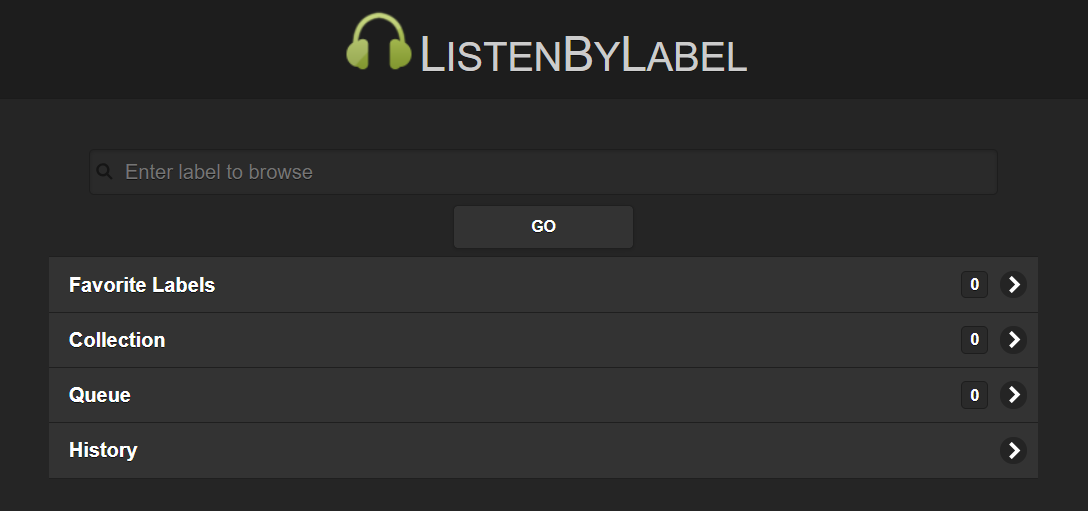 Another hot tip: Listen By Label allows you to create a free account, track record labels and the singles/albums they release and more.
It can be a very handy tool for keeping on top of new music from the labels you love (second only to, you know, actually following them on social media, interacting with them, and all of that good good stuff. Do that too.)
---
New Music Friday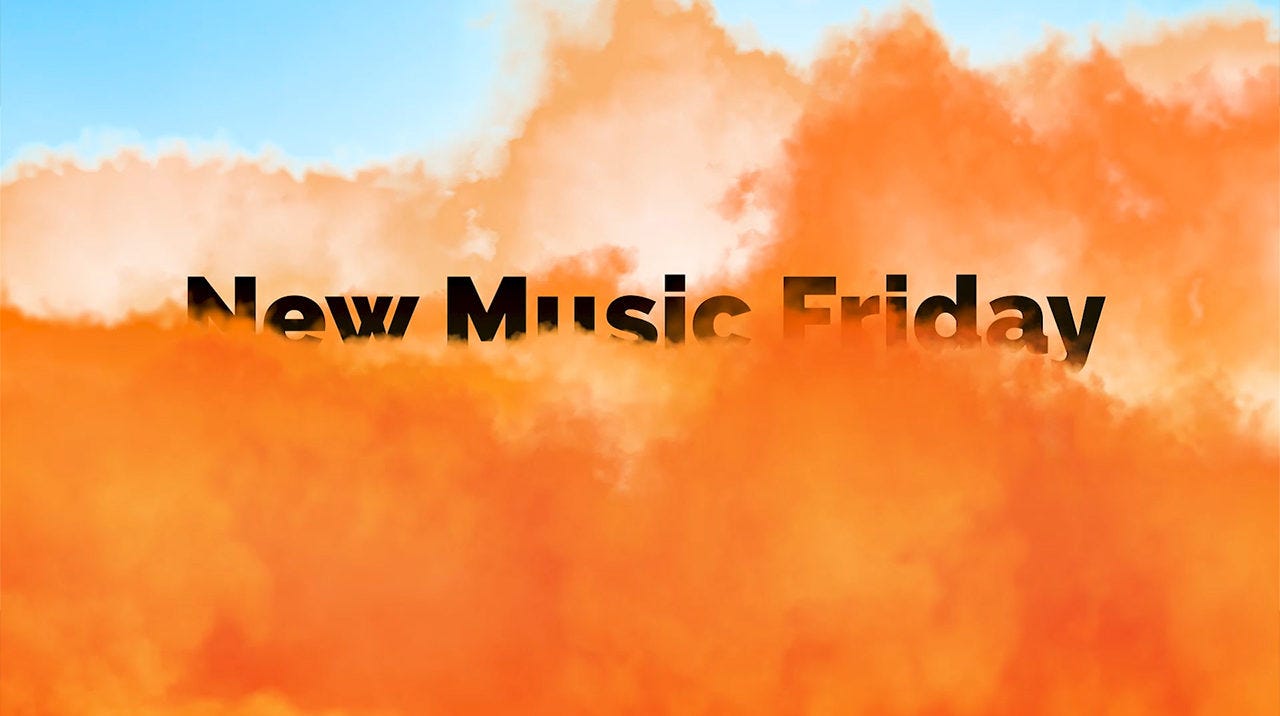 OK, finally it's New Music Friday time - here's my usual weekly routine.
Release Radar
Yes, first stop is a quick check of my Release Radar playlist on Spotify. It generally will catch the big releases I'm anticipating - especially if you've been following artists etc. as you find them. It's not perfect by any means, though, so from there I go off-platform.
Post-Trash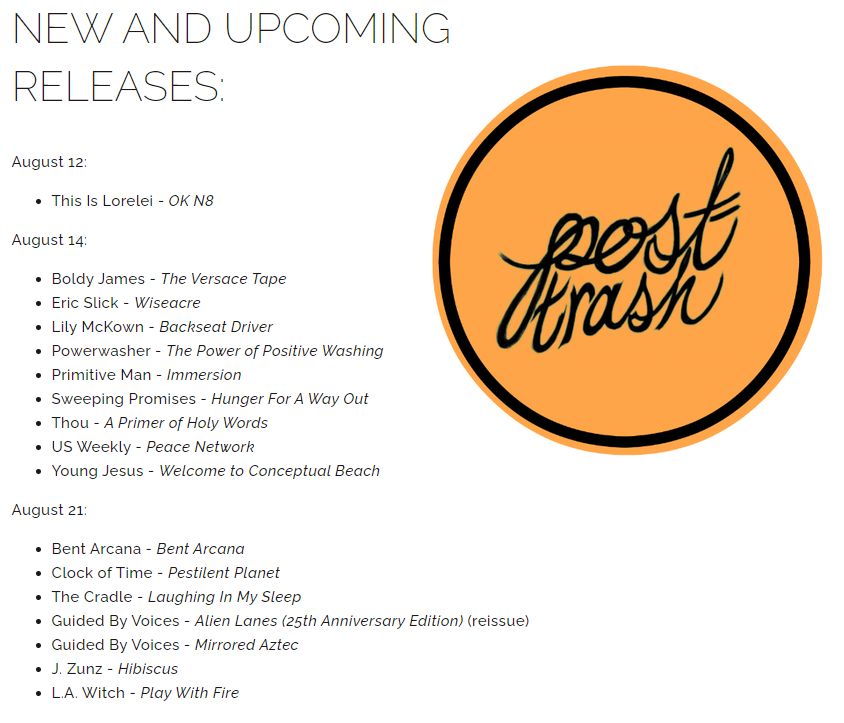 Next stop for me is Post-Trash. They're a dope website with amazing reviews and more.
They have a nice little release section that focuses mostly on indie-rock / metal / alternative / folk and some other genres. It's a great way to get a quick overview on independent releases with some solid curation.
I'll add pretty much everything from here to my listening queue for the day.
Album of the Year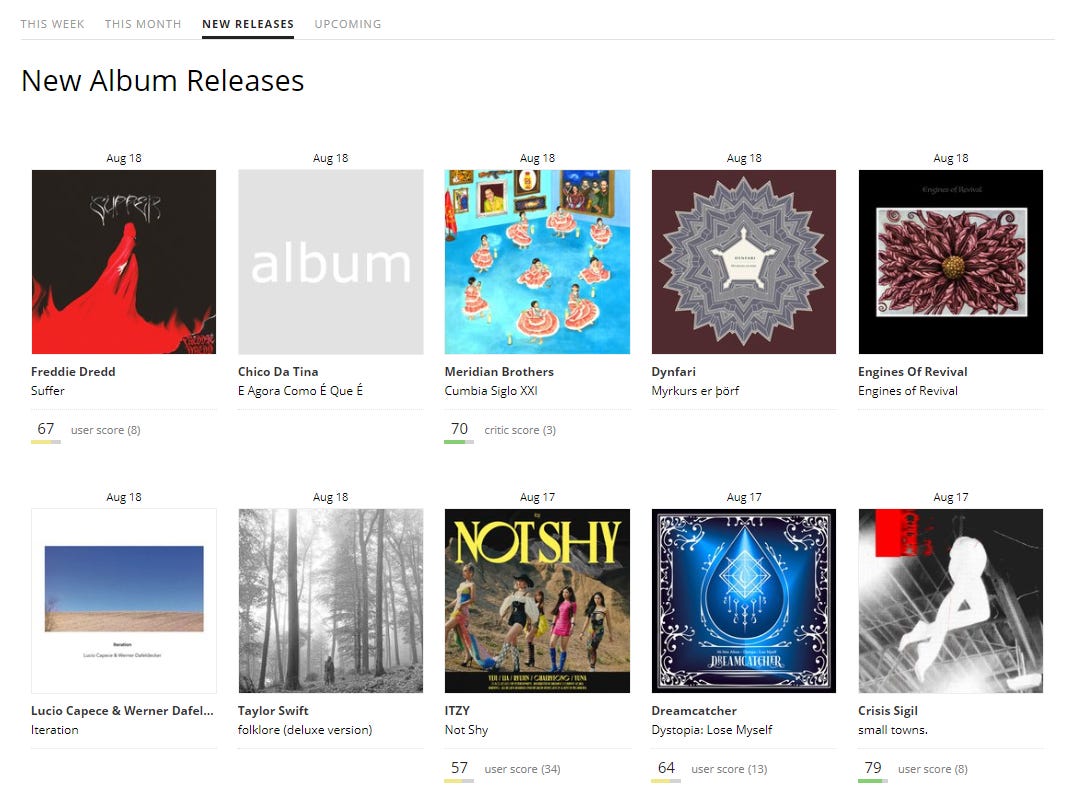 Next stop: Album of the Year's new releases page.
This list casts a much wider net than the Post-Trash list, and generally will have almost all major and independent releases for the day.
I scroll through this and save to Spotify anything that a) is from a band I already know, b) is from a band or act that I've heard of somehow and c) acts I've never heard of but the art or names catch my eye.
I love finding new albums based on their album art, or something about the look of them. It's fun!
Bandcamp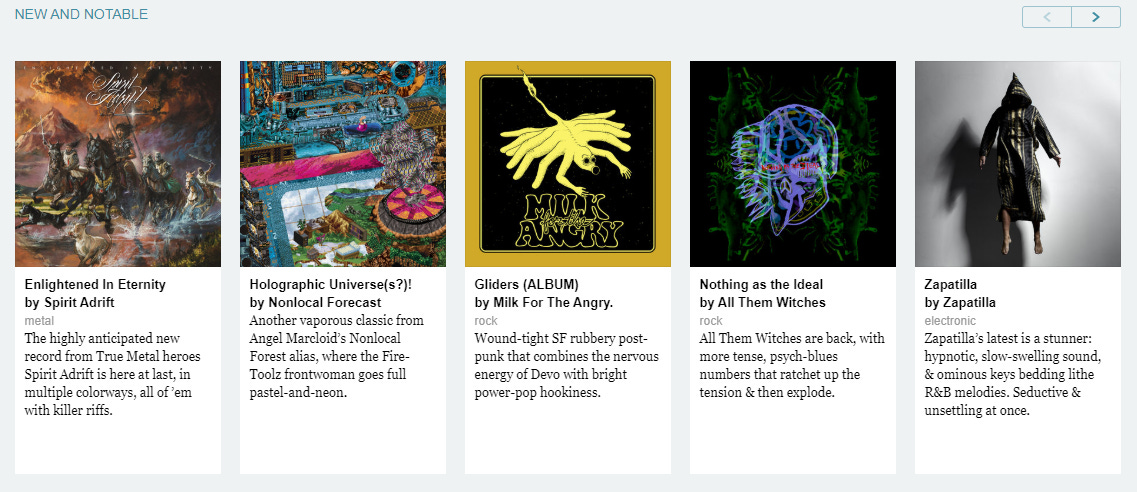 The Bandcamp homepage's New and Notable section is always a good stop as well, though not as specifically "released today" but in general you should be perusing this section - it always features music from a wide variety of genres and regions.
Every Noise: New Releases By Genre
I wrote about this in a previous newsletter, so I'll link that here, but reiterate that this tool will let you deep-dive into brand-new albums that give you audio previews when you click on them!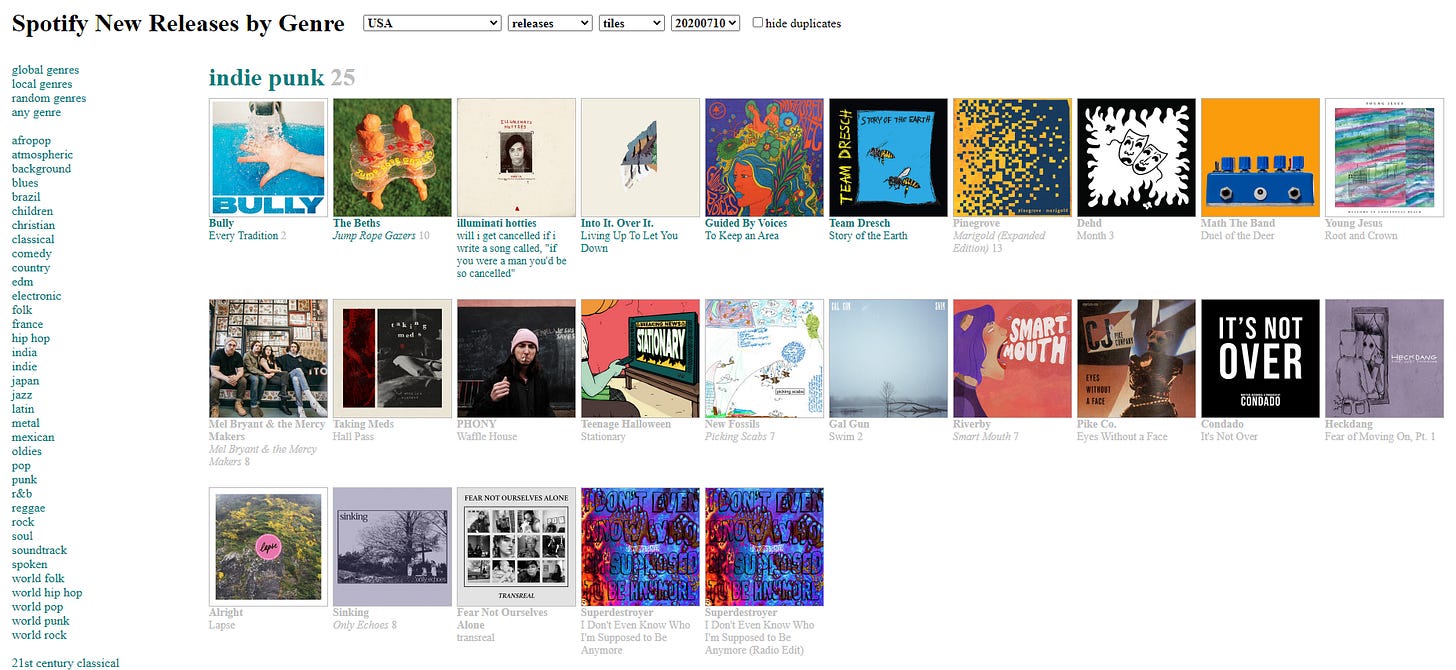 You can cast as wide a net as you want - clicking "punk" will give you all new releases including subgenres. Or dial-in very specifically by region and sub-genre together. It's amazing, and incredibly handy.
Release Day Playlist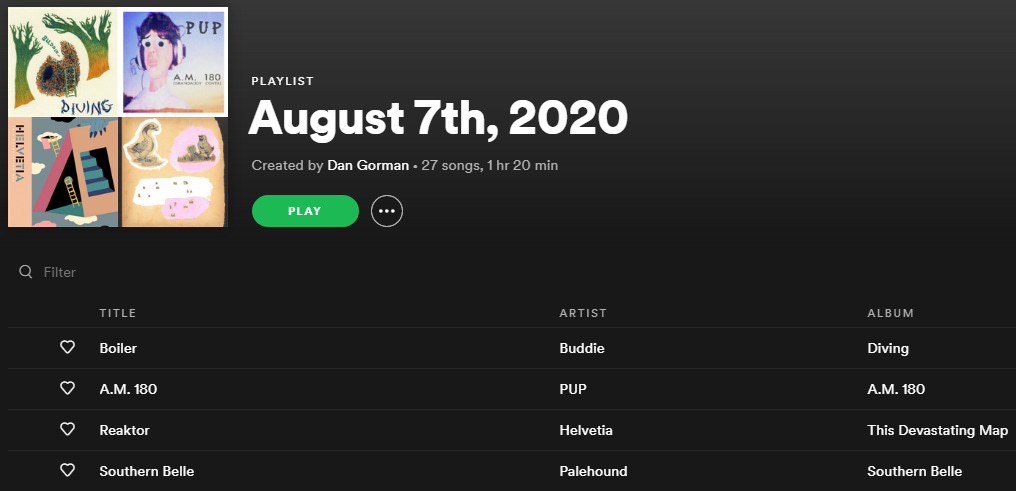 Most weeks, I'll add a song from every album I stumble upon using the above tactics to a playlist with the release date.
I don't come back to these time and time again, but they're handy for sharing (I try and tweet them out weekly, or share them directly with friends) but also also good to keep track of albums I want to move from the playlist into my saved albums for further listening.
---
Curation, curation, curation
None of this can truly replace curation at the hands of a real human.
Follow the labels you love on Twitter, read newsletters and websites for reviews and news features that cover independent artists.
I've collected a list here of some great ones to get you started… otherwise, the rest is up to you. That's it for today.
---
That's it, that's all. Be excellent to one other.